SCHOLARSHIPS
Filer Credit Union invests into the future of our communities. The future of our communities is our youth. We give away $20,000 each year to help our young graduates succeed in their next life adventure. These scholarships are meant to not only help them financially, but also let them know their community is proud of them, and we are proud to be a part of this community. 
2023 Applications
First Year Scholarship Applications are now Closed. Thank you for applying!
Second Year Scholarships are due by May 1st 2023. 
Participants must be accepted at an accredited college, university, or school for the 2022-2023 school year.
The participant or the participant's parent(s) must be a member of Filer Credit Union.
Winners will be chosen by a committee of judges based upon the completion of a scholarship application and submission of a ONE PAGE essay that outlines your future plans and goals.
It is not necessary to include grade transcripts, letters of reference, personal information, or social security number. However, GPA must be annotated on form or your application will not be considered. Please provide a professional photo of yourself.
Applications MUST be returned to Filer Credit Union by 3/31/2023.
Applicants are not limited to high school seniors, any person who meets the above qualifications may apply.
This is a $1,000 scholarship the 1st year and if awarded, you can reapply for another $1,000* for a second year.
*Some restrictions may apply.
Previous Scholarship Winners
Scholarship Winners 2022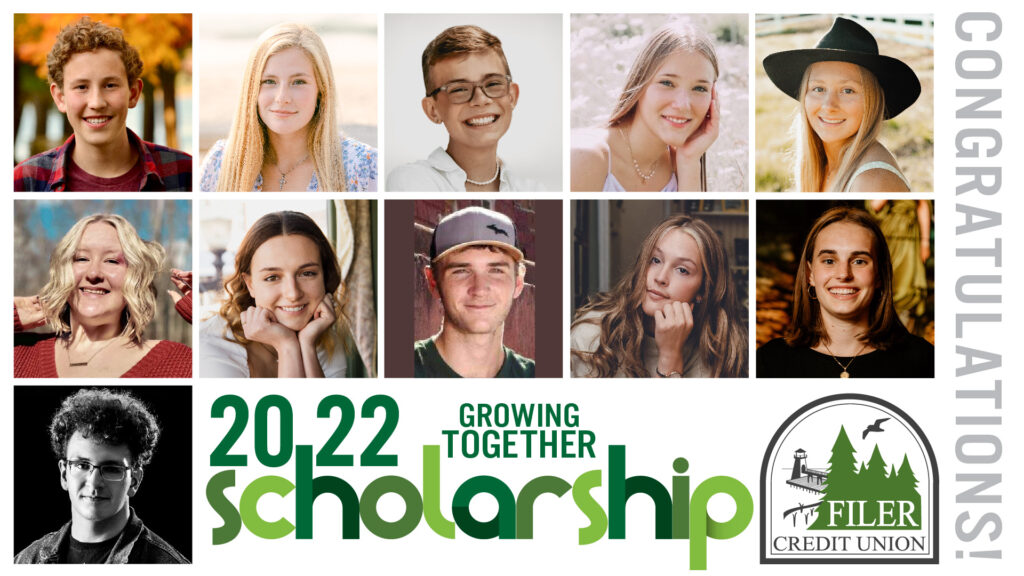 Nathan Eix-Manistee High School
Kaylin Sam-Onekama Consolidated Schools
Aiden Prince-Manistee High School
Megan Hrachovina-Onekama High School
Keera Groenwald-Bear Lake High School
Alyssa Jackoviak-Manistee High School
Gavin Rudlaff-Brethren High School
Madisen Clouse-Frankford Elberta High School
Kyle Pierce-Manistee High School
Ellery McIsaac-Onekama Consolidated Schools
Solana Postma-Manistee High School
Scholarship Winners 2021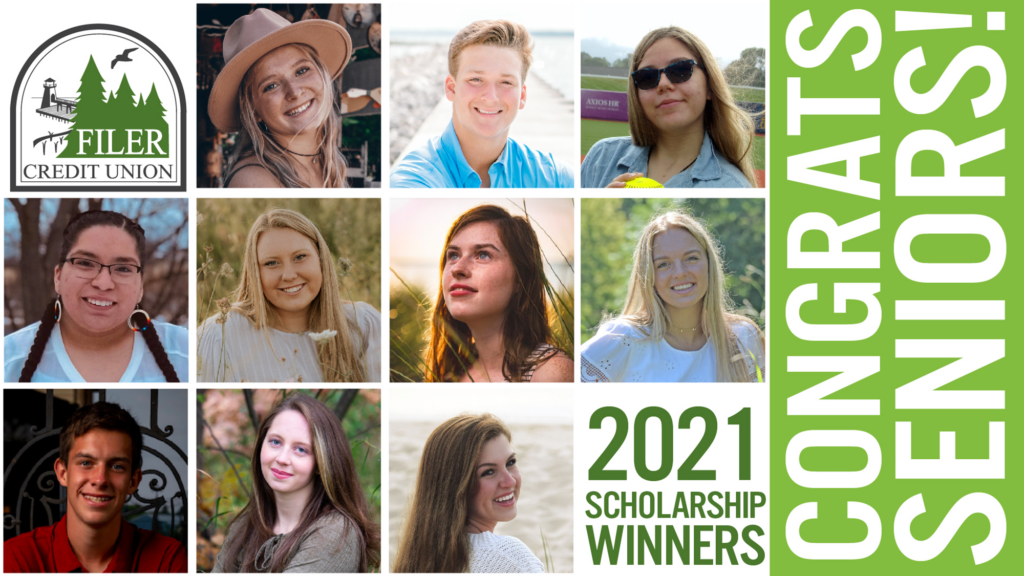 Olivia Smith – Manistee High School
Reanna Sutter – Manistee High School
Benjamin Falk – Onekama High School
Olivia Holtgren – Manistee High School
Jack Holtgren – Manistee High School
Cameryn Sutcliffe – Manistee Catholic Central
Ajah Fink – Onekama High School
Lily Sagala – Manistee High School
Haylee Pepera – Manistee High School
Jasmine Cabarrubia – Flandreau Indian School
Scholarship Winners 2020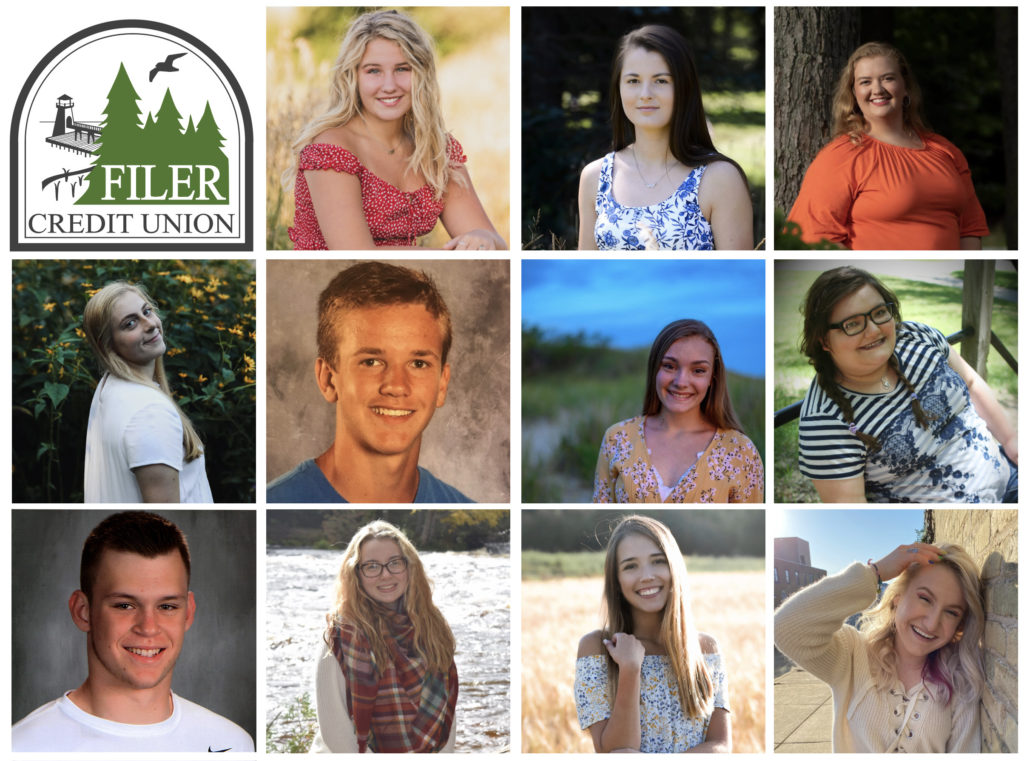 Our scholarship recipients are selected by a committee that is put together by Filer's board of directors. Due to group restrictions we did this in a few rotations this year.
Zoee Zatarga – Ludington High School
Nicole Kaminski – Manistee Catholic Central
Claire Wittlieff – Manistee Catholic Central
Rylee Feliczak – Manistee Catholic Central
William Elbers  – Manistee High School
Erin Rhodea – Manistee High School
Aurora Johnson – Manistee High School
Alliyiah Torrey – Onekama High School
Taylor Bennett – Onekama High School
Sydnee Hrachovina – Onekama High School
Faith Kidd – ASM Tech
Scholarship Winners 2019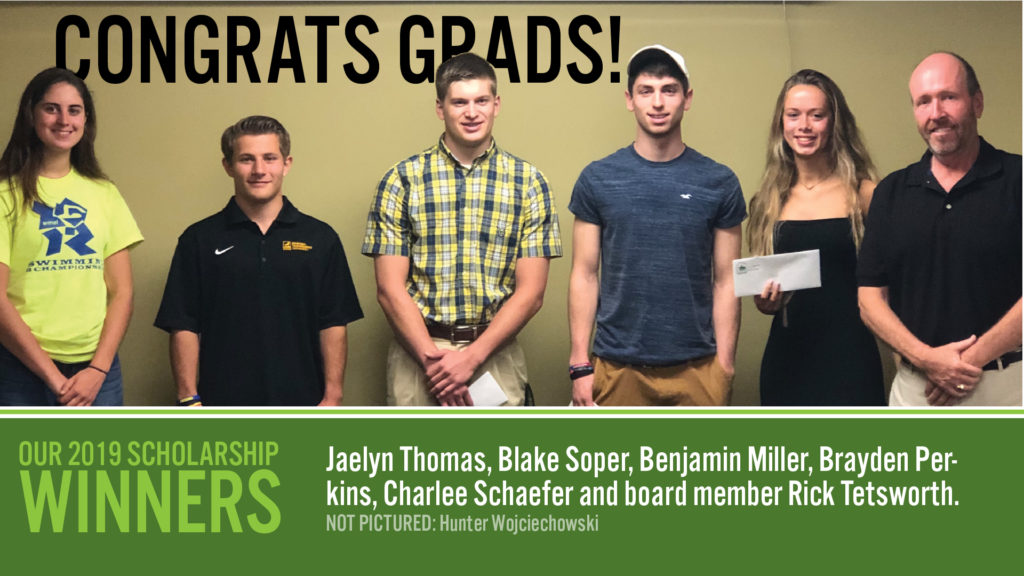 Brayden Perkins – Manistee Catholic Central
Benjamin Miller – Alpena Community College
Jaelyn Thomas – Manistee High School
Hunter Wojciechowski – Brethren High School
Charlee Schaefer – Brethren High School
Blake Soper – Onekama High School
Scholarship Winners 2017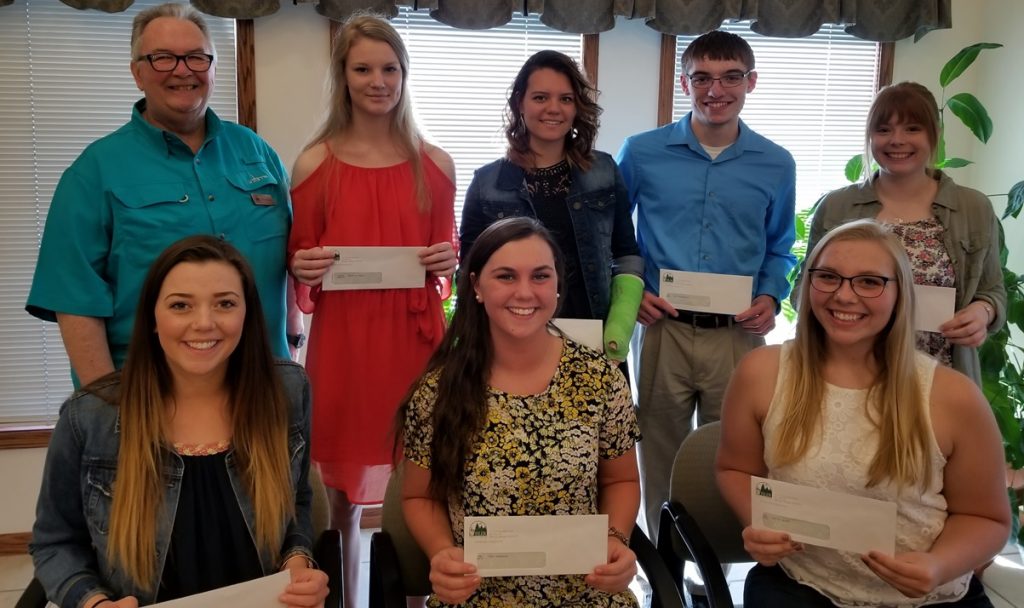 Katelyn Pruyne – Academy of Math, Science, and Technology
Molly McLinden – Manistee Catholic
Marie Falls – Brethren High School
Kyle Schaubroeck – Manistee High
Syriah Dobis – Manistee High
Joshua Robles – Manistee High
College students who received the award in past years are eligible to renew their scholarship for 1 additional year assuming they meet all of the eligibility requirements. Filer Credit Union was pleased to award 6 renewals for the following academic year. Those recipients were:
Katie Jacobi – Manistee
Justin Feliczak – Manistee Catholic
Mackenzie Warlin – Onekama
Naomi Mason – Brethren
Jodi Janowiak – Manistee Catholic
Lexi Alexander – Grand Haven
Mallory Stefanski – Manistee