Holiday Loans with Filer Credit Union are a great way for you to control your finances during the holiday season! They offer reasonable rates, especially when compared to credit cards while allowing you flexibility to use your card or even pull cash out for your holiday giving. Apply now before the season.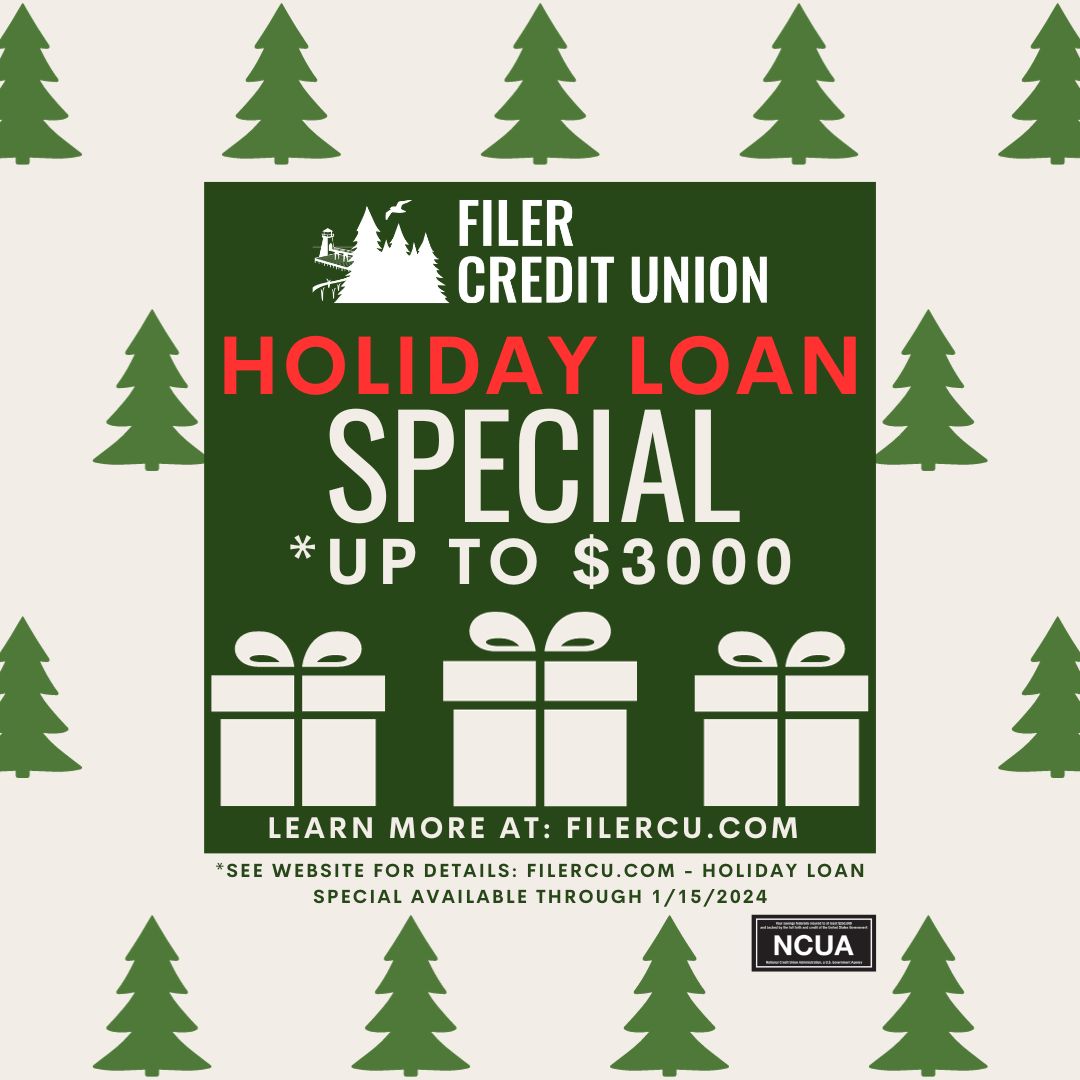 Holiday Loans
11 Month Loan Term
8.99% APR
620 credit score and above
Income Verification *required
Offer Valid until 01/15/2023
*Promotional rate of 8.99% APR is accurate as of 11/1/2023, valid for a limited time, and subject to termination at any time without notice. Rate good for loan amounts up to $3,000 with a 11 month term. Interest begins to accrue on the date of loan origination.  
Ready to Apply for a Holiday Loan?
Why choose a Holiday Loan?
Holiday Loans are always popular with Filer Credit Union members, tis the season! 
Expenses during the holiday season can add up! Our Holiday Loans are designed to help you enjoy the holiday season while providing a way of staying in charge of your finances.
Here's how we do it:
Allow you to borrow up to $3,000 now
11 payments
Offer interest rates more reasonable than most credit cards; as low as 8.99% APR*
620 credit score and above
Income verification required
Accounts must be current (checking & savings have to be positive)
Have questions for us?  Stop by or give us a call at 231.723.3400 between 9am – 5pm, Monday – Friday.
Why not use a credit card?
Holiday Loans have a few benefits over a credit card:
Reasonable interest rates:

 

Filer Credit Union's Holiday Loan rates start as low as 8.99% APR*.  Compare that to credit cards 🙂
More flexibility:

your Holiday Loan will be deposited to your Filer Credit Union checking

or savings account this allows flexibility to use your debit card or even withdraw cash for gifts.
Fixed loan repayment:

 

unlike a credit card, our Holiday Loan has an 11-month repayment term.  This makes budgeting and paying off debt manageable for you!
Not a member?
If you are not yet a member of Filer Credit Union, you are still welcome to apply for a holiday loan.  If your holiday loan application is approved, you will need to join the credit union before your loan can be disbursed.  We'll walk you through the process, and it only requires a $5 deposit to join!
Filer Credit Union is open to anyone who lives, works, worships, or attends school in the entire state of Michigan!
Have questions for us?   Stop by one of our locations or give us a call at 231.723.3400 between 9am – 5pm, Monday – Friday.  

Who is Filer Credit Union?
Filer Credit Union is like a bank but we care for you! We offer financial services: loans, mortgages, savings accounts, checking accounts, and more.  Unlike a bank, we're a not-for-profit organization owned by our members.  This means, we value and care for the best interest of our members (i.e., accountholders) rather than investors.